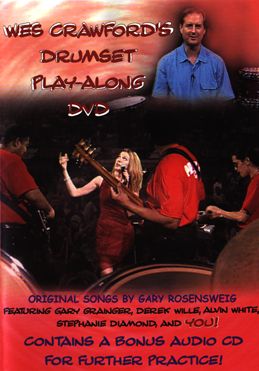 Wes Crawford's Drumset Play-Along DVD
is an innovative teaching tool that is both instructional and fun to use. This interactive DVD puts you on the drum throne with a professional pop band (performed by real professional musicians). Join the band on ten songs--in varying styles, including funk, jazz, R&B, disco, etc.--and perform with them at different "professional" gigs: your audition, club shows, a beach party, and many more. See the band and the venue from the perspective of the drummer while you play along on your drum set. The DVD includes tracks with and without drums and printable charts. This is a great opportunity--for young drummers who lack true professional experience--to feel like they are playing with a real band. Its the fun of Rock Band with real drumming on a real set.
Perfect for Kids and Beginners!
For more information, click
HERE
.